The Dome: An Important Architectural Component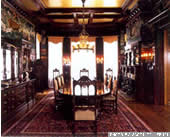 Since its construction in 1902, the dome over the Utah Governor's Mansion stairwell has been an important architectural focal point in the home.

Unfortunately, the 1993 fire severely damaged and almost destroyed this golden dome. Replicating it required the skills of many craftspeople. A crucial first step in the process was to remove the fragile remaining sections without permitting them to crumble. This was done by draping sheets of plastic over the back of the panels and injecting urethane foam to bind the burned pieces together.
The Baltimore firm of Hayles & Howe supplied the expertise to cast a replica of the original dome. They created molds based on historic photographs and drawings of the charred pieces, then made plaster casts of sections of the dome from these molds.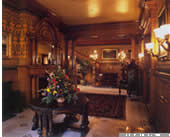 After the new dome was assembled, craftspeople from Evergreene Painting Studios in New York City gave it a brilliant golden hue. Like the original dome, the new one is leafed with Dutch metal, a composite of 85% bronze and 15% zinc. The craftspeople smoothed off rough spots on the surface, primed it with shellac and applied two coats of eggshell enamel. They covered the dome with gold "size" — the glue to which the metal leaf sticks. With a brush, they pressed thin sheets of Dutch metal into the gold size, then applied a coat of varnish and a glaze to make the details of the dome visible from below. The result is a brilliant gold-colored restored dome centered over the balcony of the second and third floors.