Woodcarving & Plasterwork
Woodcarving and plasterwork were unique architectural features of the Utah Governor's Mansion. The original white oak carvings were of extraordinary quality.
They were crafted in Europe at the turn-of-the-century, most likely by German or Austrian artisans. The fire destroyed most of these carvings, with the worst damage occurring in the Grand Hall where the Christmas tree stood.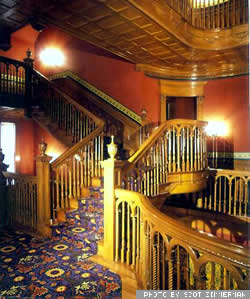 The burned carvings were sent to Agrell and Thorpe, Ltd., a Sausalito, California wood carving shop. According to master carver Ian Agrell, the replication of the Utah Governor's Mansion carvings constituted the largest wood carving project undertaken anywhere in the world in the past ten years.
Agrell and Thorpe's 12 craftspeople spent close to 20,000 hours recreating the mansion's original carvings. Early on they discovered that modern tools could not improve on designs devised 100 years ago. They carefully examined the burned pieces, then copied the construction of each original carving exactly. The new carvings are nearly indistinguishable from the old. The firm also replicated stone carvings on columns on the upstairs south porch.
As part of the mansion restoration, all interior surfaces had to be removed in order to clean soot and repair smoke damage. The unique ceiling plasterwork, however, was cleaned in place since it was determined that it could not be replicated. The exception was in the parlor where new plaster ceiling details had to be recreated based on historic photographs by Dick Cook and others working with Berger, Inc., of Salt Lake City.
All of the interior walls had to be removed and rebuilt using the same metal lath and plaster techniques of the early 1900s.